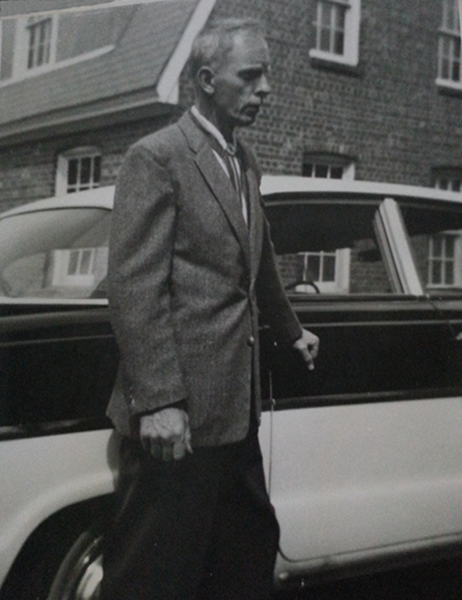 This is my grandfather on my mother's side, Robert Hjort, probably sometime in the 1960's. Some of his friends called him "Bob." His older friends, those who knew him before his hair turned gray, called him "Red," for the ferociously red shade his hair had once been. To me, though, he was always "Gamp."
You see, I was the first grandchild born, but I had some early speech disabilities. He wanted me to call him "Gramps," and my grandmother, "Grandma." But I couldn't say those words, not quite. I ended up christening them as Nama and Gamp, and those were the names they went by for the rest of their lives. To my brother, to my cousins, and to the rest of their extended family…Nama and Gamp.
Gamp was quite a character. He worked from the age of four onwards, starting with picking crops in the fields. He was only able to complete high school because he made a deal with his family that he would work both before and after the regular school day.
During the Depression, he supported his family by working odd jobs and participating in, and betting on, high stakes candlepin bowling matches. My story, "The Match," provides a fictionalized but realistic account of the types of high pressure matches he engaged in (the ball throwing incident is real, too).
Later, he volunteered for the Navy in World War II. He ended up working on board the destroyers that guided convoys of ships across the ocean. Yes, it was that dangerous. After the war, he was a truck driver for Nissans Bread Company until he retired.
Gamp was born in 1908 and died in 1990. He was a Danish immigrant who came to the United States on a boat with his family when he was just a baby. He grew up in Portsmouth, New Hampshire. It's hard to believe sometimes that someone who was so important to my formative years has now been gone for more than half of my life.