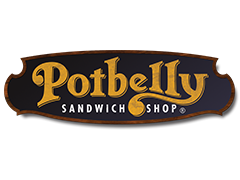 I'm at the Potbelly Sandwich Shop, where I've ordered a salad for myself, a sandwich for my wife and a few accessories. I get up to the cash register, they ring up my order and I reach into my back for my wallet…which isn't there.
I apologize, make my excuses and head out to the car to see if I've left it there.
Nope. I head back in and tell the cashier to just set my order to the side. I'll run home and get my wallet.
A tall man with salt and pepper hair is standing near the cash register, waiting for part of his own order to be completed. He says, "You forgot your wallet?"
"Yeah." I'm shaking my head, because I'm still annoyed with myself. "I'm just gonna go home and get it."
"Ah, don't do that. How big's your order?"
"Just lunch for me and my wife," I say.
He grimaces and then gives a shrug. "Don't worry about it. I'll just pick it up for you. I've been in this situation before, myself."
"Thanks. Uh, if you give me your name and number, I can pay you back…"
He waves me off. "Don't worry about it. Just pay it forward."
He calls out to the cashier. "I'll pay for this guy's order."
The cashier looks over at us. "The order's already paid for." He points past us at a slim, red-haired lady who'd been behind me in line. Without saying anything to us, she's walking out of the shop. "She's already paid for it."
I ended up getting my lunch for free because of the kindness of strangers.
Sometimes it's easy to be down on humanity, thinking that people are stupid, ignorant, callous, easily fooled, etc. Pick your particular gripe at any given moment. But really, most folks are just regular, decent people. And sometimes it's really nice to be reminded of that.