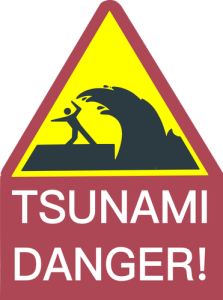 NANOWRIMO is here, otherwise known as National Novel Writing Month. It is an endeavor in which folks attempt to complete 50K words of writing (a short novel) in the month of November. I applaud the initiative. Writers write. To be bluntly obvious, that's what makes us writers.
If you have aspirations of being a professional author, the best way to find out if you have what it takes is…wait for it…by writing.
And, in my humble opinion, the best way to learn is not just to write, but to actually finish something.
Sadly, NANOWRIMO is typically followed by the December Deluge, also affectionately known as the Tsunami of Crap, in which large numbers of people publish the content that they've written in November. Completing something does not mean it's ready to be published.
And, if you're new to the craft, let's face it, do you really think that your very first effort is professional quality? Really? I mean, my first stories were dreck. Quite frankly, they'll never see the light of day. Nor should they. Other writers, such as Stephen King in his book, On Writing, have said the same thing.
Which brings me to the topic of Critical Awareness, which I define as the ability to evaluate the quality of your own story as a saleable product. Unsurprisingly, this is a learned skill, just like anything else. It's also something that writers, on the whole, are notoriously bad at. After all, it's hard to be objective about something that you're so close to, that you've spent so much time sweating over.
It turns out that Critical Awareness is a skill. Like any other skill, you have to work to develop it. Here are some techniques to help you develop the capability to evaluate your own work:
Time: Let the story sit for a month or two, while you get involved with a new project. Come back and read the story again when you've acquired enough distance from it to be suitably objective. This is one of my key tactics; I'm never in a hurry to publish my stories.
Regular Critiques: Let others critique the work while you're developing it. Writing groups are great for this. Most groups provide opportunities to review chapters in ongoing works. A good group can help you gain insights into your story, such as inconsistencies, worldbuilding gotchas, characterization problems, etc.
Beta Readers: Beta readers can read a finished work and point out flaws in the work. Unlike critique groups, which typically review individual chapters on a periodic basis, beta readers review the entire story. This can help provide insight into structural problems, plotting problems, pacing issues, etc.
A note on the people who do critiques or Beta reads… You need people with some writing background who are willing to tell you what you need to hear, not what you want to hear. Your mother is probably not a good choice. Just sayin'.
Writing is creative, but publishing is a business. Finishing a story is good, but deciding to publish should be based on a clear evaluation of a work's prospects in the marketplace. Will it sell? Will it enhance, or detract from, the author brand you're trying to establish? Critical Awareness is a crucial skill for success in the business.