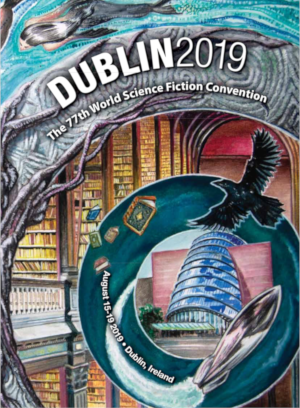 An interesting thing happened today. I received the Dublin 2019 Souvenir Book in the mail, the official commemorative book celebrating the 77th World Science Fiction, which was held last summer in Dublin, Ireland.
I was supposed to get it when I showed up for the convention…but they'd run out by the time I got there. The good T-shirts had run out, too, so I never bought any wearable swag. This was a theme for the convention, because the con runners ended up getting far more attendees than they expected. My personal guess is that they got about twice what the main venue could actually handle.
Now, don't get me wrong. I had a splendid time in Ireland, and a great time at the convention. And the con runners clearly did their absolute best to accommodate the crowd of almost 7000 attendees, including closing membership sales down (there were no at-the-event membership sales), adding more space in a (relatively) nearby movie theater complex, and practicing strict crowd control measures to regulate access to any programming sessions.
Mostly, I'm tickled pink to finally get my souvenir book for the Worldcon…six months after the event. I read through most of it tonight, and had a great time refreshing my memory about so many of the cool things associated with the convention, from learning more about the guests to seeing who's bidding to host Worldcon in the future.
Thanks, Dublin.