The Gaithersburg Book Festival, held on May 21, was a lot of fun. It lasts 8 hours (10am to 6pm) and attracts something like 20K attendees (though not all at once, as far as I could tell). They have sessions and workshops with invited authors (who can sell their books in the official event bookstore). They have tents for authors and book dealers (and other organizations), where books are sold. They have food trucks, a pavilion of cheap used library books for sale, pavilions featuring activities for children, and more.
Besides the fact that it looked like a fun event when I researched it online, I went there largely to evaluate the festival as a venue for book sales. While not exclusively an SF/Fantasy event, I thought it was a good event for selling books at, though preferably as a publisher or group ($200 for the table, vs. $150 for a single author). My friends and I may very well attend next year under the auspices of Tannhauser Press, a small press owned and operated by my friend, and fellow author, Martin Wilsey.
---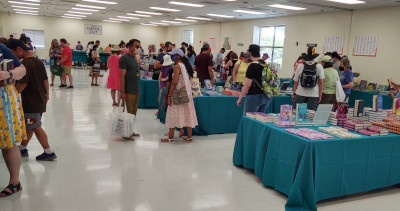 Event Bookstore: The bookstore was set up indoors and featured decent traffic. You had to be an invited author, one of the event's guest speakers, in order to have your books for sale in the Event Bookstore. There were signs posted highlighting the types of books. Unfortunately, there was no SF/Fantasy section, though there was a Mystery/Thriller section. Some of the YA was Fantasy, though obviously labeled as YA. Most of the books on sale were hardcovers.
---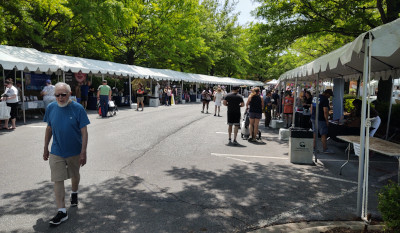 Bookseller Row: OK, this is my name for it. As you can see, the booths are set up in a parking lot, with a pavilion over each booth. This was where the action is if you want to sell books at the event. The entire row (both sides) is nothing but publishers, authors, and writing groups.
Library-type organizations are set up in the next row to the right, with food trucks facing them.
---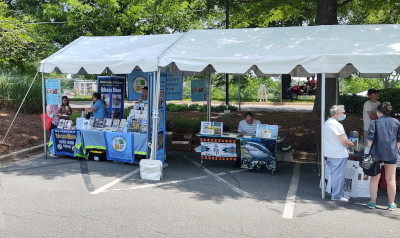 Bookseller Booths: The festival provides pavilion coverage for all of the vendors. Conveniently, each "slot" is a normal-sized parking space. They provide a 6-foot table. As you can see, Peschel Press on the left brought their own tables, so they used the space much more effectively than the solo author next to them. Although a niche publisher, Peschel Press had one of the nicest setups along that row (and, yes, I bought a book from them).
This also provides an excellent example of how to sell books at an event (Peschel Press) and how NOT to sell books (the author in the booth next to them).
---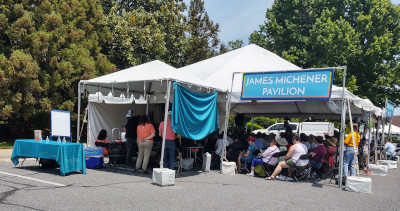 Moving towards the back of the festival space (so this is well beyond Bookseller's Row), this is one of the smaller pavilions set up for the speaking events. By the way, it looked like the events were being recorded, so you may eventually be able to find the videos online.
There were maybe four of five of these pavilions.
---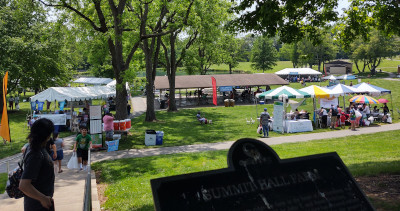 Heading further afield, you hit Summit Hall Farm Park, with more pavilions, activities for kids, the library book sale pavilion (nicely far away from Bookseller's Row), and lots of shade.
---
Overall, this was a fun event with good food, lots of things to see and do, and a most excellent price…FREE.