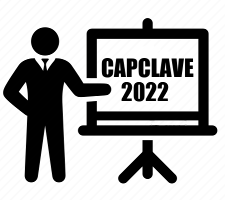 Running a convention is hard, with a lot of moving pieces. Coming out of the pandemic, and trying to get a convention up and running again for what is expected to be pretty close to full, normal attendance…that's hard, too. So, it's not too surprising that Capclave has been a little slow off the mark this year.
That's not a complaint. It's just the reality we're ALL dealing with.
For my part, as a prospective member of Programming for Capclave 2022, I try to be the Easy Button…part of the solution, helping out in any way I can. We're two weeks away from the con and the Programming schedule is still a work in progress (though they'll be done shortly, I assure you).
This year, I presented them with a choice of two brand-new writing workshops. They're both more convention-level polished versions of workshops I've run for the Hourlings Writing Group.
Much to my surprise, they chose BOTH.
So, here they are:
Occupational Hazard: In this workshop on character development, participants will start by defining an SF or Fantasy occupation…and then exploring the type of person who might take on that job. Participants will also focus on key areas such as character goals, high-level story arc, challenges, obstacles, and limitations.
Create Your Own SF/Fantasy TV Series: Using techniques exemplified by series like Buffy, Firefly, Dark Matter and other shows too numerous to mention, participants will collaborate in envisioning an SF or Fantasy TV series. Topics will include developing the concept, budget considerations, character development, season-level story arcs, and idea generation for potential episodes.
I've run both of them previously for the Hourlings Writing Group, who I want to thank for always being willing to be my guinea pigs for any new workshops I come up with. They're both really fun workshops and, I think, distinctly different and more participative than most workshops I've seen at conventions.