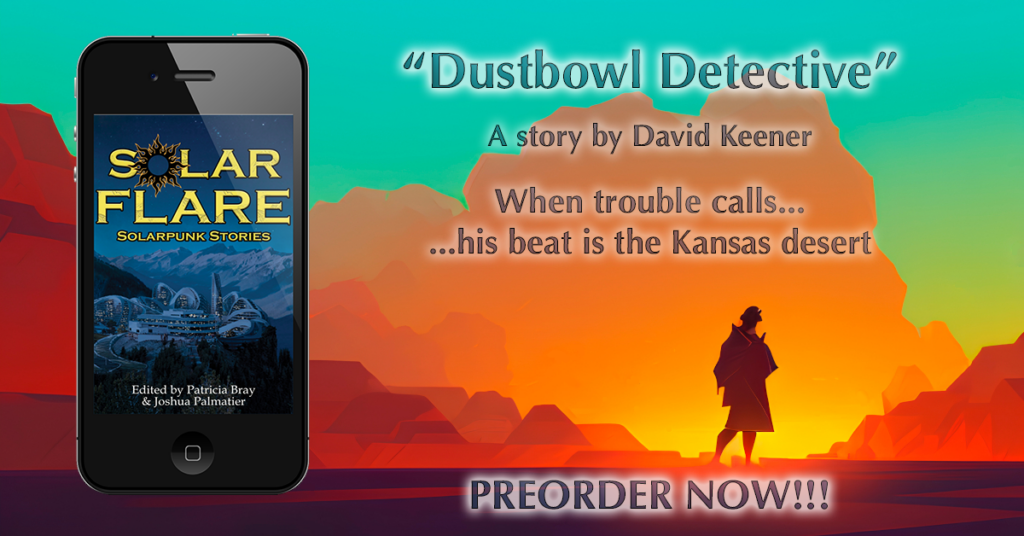 My latest story, "Dustbowl Detective," is appearing in the anthology Solar Flare from renowned editors Patricia Bray and Joshua B. Palmatier. My story is a futuristic crime story set in a world ravaged by climate change, set in my Inflection Point universe. Preorder the anthology today!
Here are some additional order links:
And here's my blurb for the story below…
---
Train Heist in the Kansas Desert
Ulysses Perez is a Mexican-American ex-soldier and a veteran of Civil War II. Too bad America doesn't exist anymore.
When the US splintered into the Five Nations, Ulysses, and lots of others, were left out. Now he's a "scrub"—a man of no nation. He ekes out a living as a private investigator working the "scrublands," the strife-torn, desert areas of what used to be America…the places nobody cares about anymore.
His latest case: Taking over a bungled investigation for Trans-Pacific Standard, a railroad company. It seems that somebody boosted the last ten cars of one of their trains and made off with all the goodies.
Now that Ulysses is on the case, both the thieves—and the railroad company—are gonna get a lot more trouble than they bargained for…