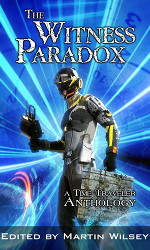 I'm working on a story for a new time travel anthology called The Witness Paradox. It's edited by Martin Wilsey and will be published by Tannhauser Press.
My story features a teenager named Alex Nelson who is caught in a temporal vortex when a physics experiment at the nearby collider facility goes terribly wrong. It's a story of narrow escapes, disaster, time travel and dinosaurs.
What more could you want?
Did I mention that it's got dinosaurs?