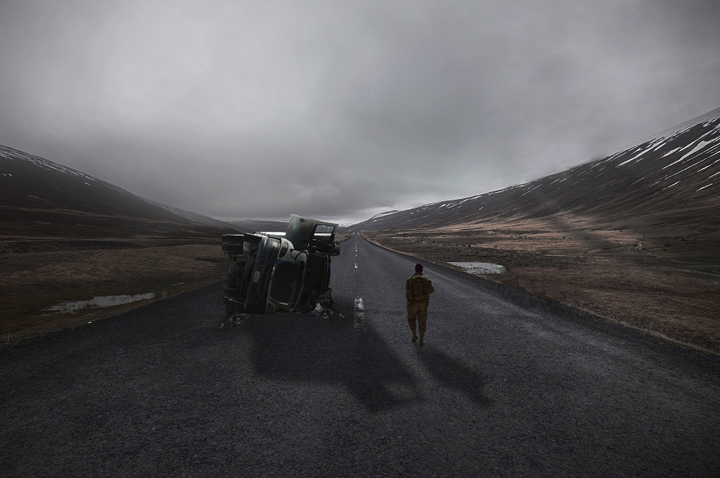 This is a preview of the raw cover image for my story, Road Trip, which will be published in December.
[Editor's Note: Boy, I really screwed the pooch on THAT prediction.]
[Editor's Note 2: And THEN I decided not us use it as the cover image, after all.]
Here's the description of the story:
Rocco Fitch is a down-and-out disabled veteran of the War Against Terror, having been severely injured by an IED in Afghanistan. Since his return, his wife has left him (taking his daughter with her), he can't get a job, unemployment payments have run out, his car's been repossessed, the bank wants to foreclose on his house and life just isn't working out well…

Then some beggar tries to sell him a road. Sensing that the beggar is a war vet like himself, Rocco buys the road from him for all the money he has left: $3.37.

At first, Rocco thinks the sale is just a strange way for the beggar to talk himself into accepting a handout from a fellow vet. But then he wakes up the next morning with a road, a magical road, crossing his backyard. A road that nobody else can see…

Besides the mysterious road that he now owns, the one bright spot in his life is his unlikely friend, his neighbor Sammie, an aging black rogue with a diabolical sense of humor, a foul mouth, friends in low places and a rather piratical way of looking at the world.

Between the two of them, they might just be able to set Rocco's life on a new and different path.
Look for it on Amazon in the November/December timeframe.