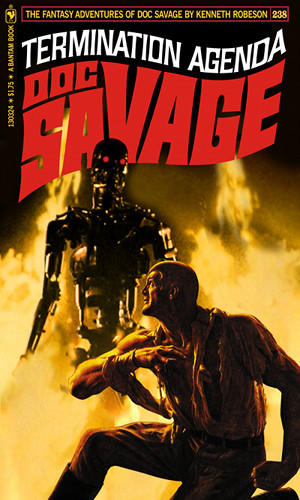 Today's mashup is a fake book cover featuring the inimitable pulp hero, Doc Savage, vs. the Terminator, from the famous movie franchise.
Doc Savage was featured in his own magazine in the 1930s and 1940s, a response to a similar magazine featuring the Shadow. All of the Doc Savage stories were later reprinted by Bantam in the 1960s and 1970s (when I encountered them). More novels have been sporadically published in the years since the Bantam reprintings.
Doc Savage is a heroic figure of a man, trained since birth to be extraordinary, both mentally and physically. From his headquarters in the Empire State Building, he fights crime with the help of an oddball crew of five unusual and uncommonly talented military veterans.
The Terminator, of course, was sent back in time at the behest of Skynet, an Artificial​ Intelligence that decides to use time travel to eliminate its enemies before they can organize resistance to it.
Wouldn't it be cool if Doc Savage, the so-called Man of Bronze, really fought against the Terminator? I'd certainly buy that book.