Carlitos Paiva is the villain in my upcoming novella, "Rise or Die" (Editorial Note: Later renamed to "Clash by Night" when it was published in an anthology). In 2114, he and his hand-picked unit are military advisors in Brazil during a long, long civil war. Unfortunately, he's working for the losing side. His employer, General Diego, needs his help in arranging a strategic exit to a luxurious life in exile funded by a cache of stolen artwork. However, somebody is trying to steal that cache from both Paiva and Diego. That's a bad idea.
As an exercise, I often start off by writing a profile for each major character in a story. Here's the profile for Carlitos Paiva, international mercenary and military advisor. He's 42 years old, 5'9″, 217 pounds, and has close-crapped black hair and a salt-and-pepper beard.
---
Carlitos Paiva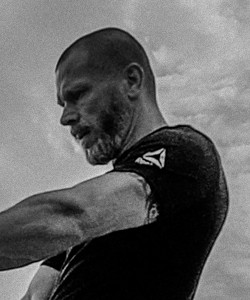 I just follow the money. I've got some specialized skills that are in high demand. The downside is I have to travel to some of the most God-forsaken spots on this planet to exercise them. Like Brazil in the middle of their damned civil war.
You can call me a mercenary, if it makes you feel better.
Security services, corporate extraction, tactical decommissioning, military consulting—I provide whatever the client needs. I've got a team that I regularly work with and a boatload of mil-grade gear, plus I can field larger units with sufficient lead time for recruiting and training. It's a profitable, albeit dangerous business, but one that I'm well prepared for thanks to my military experience.
One big score, though, could push me over the top.
I'm good, but the years are catching up. Tech only makes up for so much. One big payday and I'm running Paiva Security Services from a corner office somewhere. Living the high life and sending others into the field and raking in money without personal risk. This thing in Brazil could be just the ticket.