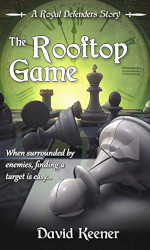 My story, The Rooftop Game has just been published and is available on Amazon.
It's the first story in the Royal Defenders series, which is set in my Thousand Kingdoms universe.
Here's a description of the book:
Failure Is Not an Option

Lydio Malik is the Royal Bodyguard for the infant Princess Analisa of Salasia. He's sworn to die before he'll let any harm come to her. He may just have to.

Despite his position, Malik is ridiculed for his foreign heritage, his unpopular views on protection strategies, and his obsessive attention to detail.

While the King goes to show the flag in the troubled north, his enemies launch a brazen attack against the royal family. Surrounded by enemies, with no possibility of escape, Malik finds a unique and desperate way to protect his charge.

If they want the Princess, they're going to have to pay the price…in blood.

The Rooftop Game is the thrilling story of a bodyguard who won't give up, set in a bold new fantasy setting known as the Thousand Kingdoms.
As a bonus, the book includes "Winter Roses," a short story set in the Thousand Kingdoms universe. It was the first Thousand Kingdoms story ever published, way back in 2015. And you also get a preview chapter of Bitter Days, my next book in that universe, which will be published in October 2018.