Season 2, Episode 35 of the Hourlings Podcast Project (85 minutes) is now available on YouTube. Trust me, this is one of our best episodes ever!!!
Stories are about conflict. For that reason, guns often feature in our stories. Sadly, a lot of writers get the details wrong.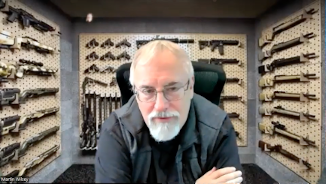 No more! Martin Wilsey, our resident gun expert, is here to give a basic primer on guns and how to use them effectively in fiction. Meanwhile, S.C. Megale and David Keener will be peppering him with the questions you didn't know you needed to ask.
But wait! There's more! Because at the end, we present Marty with a pop quiz. Given an array of well-known SF/Fantasy adversaries, we grill Marty on: "What gun would be best for dealing with THIS threat?"
Martin Wilsey is a veteran SF/Fantasy writer whose latest story, "Justice in the Mist," was just published in the anthology, Fantastic Detectives.
This episode features:
Martin Wilsey (Lecturer and Subject Matter Expert)
David Keener (Sadistic Quiz Master)
S. C. Megale
The podcast episode is available on YouTube.