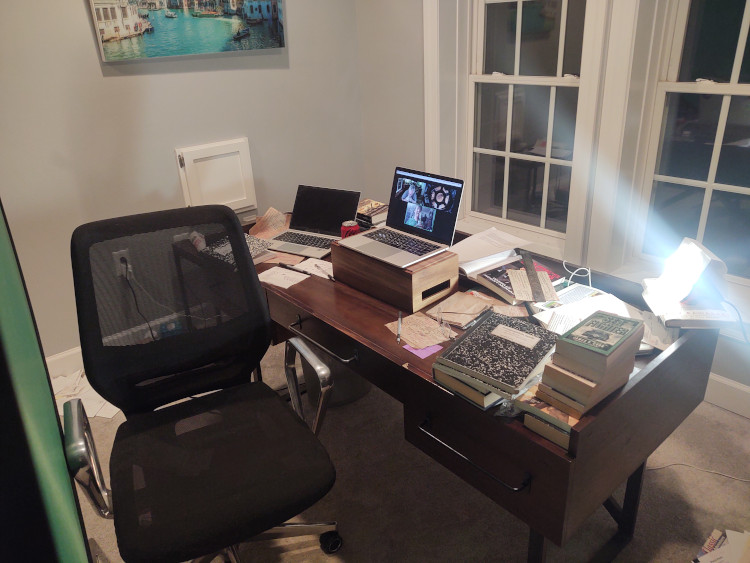 A few years ago, Martin Wilsey, S.C. Megale and I did a podcast episode entitled Where Writers Write, in which we showed the various places in which we typically accomplished our writing. For me, I tend to write in lots of different locations, as you'll see if you follow the link to that episode above.
However, for podcasting, all the magic happens in a single place. With my fellow participants, I've recorded 141 episodes of the Hourlings Podcast Project in my office. Unlike writing, where all I need is my laptop (and hopefully a plug), podcasting imposes a few other demands.
First, lighting. Not shown, there are recessed lights in the ceiling shining down on me. As such, they tend to cause shadows on my face, so I have a light perched on the back corner of my desk to fill in those shadows. Second, behind the chair, I have an oval-shaped green screen on a stand. Within Zoom, which is what we use to record our podcast, this allows me to make my background whatever I want it to be. Third, my office is in a nicely finished basement and therefore isolated from the majority of household noises.
In fact, this picture was taken during a break between recording sessions (we often record two podcasts in one evening). On the laptop screen, you can see my fellow podcasters–I'm missing, of course, because I'm the one taking the picture.
My laptop is elevated because I've found that works better for the podcast, as well as the many Zoom meetings in which I end up participating. It's also egonomically better, as well.
And a few of my quirks are exposed…
I really need to clean my desk (again).
Even though I have Post-Its, I tend to write notes on napkins. I don't know why.
On the right, there's a stack of books. I'm reading all of them at the same time. I dunno, it's a thing, but I always end up doing this.
I love those moleskin notebooks for notes. I always have one with me. They're great for writing down story ideas, marketing ideas, cool names I've encountered, tips, etc. Every entry is dated, so they serve almost like a diary of my writing career.
Oh, and the fill light is resting on a hardcover copy of Guy Kawasaki's Rules for Revolutionaries, subtitled "The Capitalist Manifesto for Creating and Marketing New Products and Services" (which I believe I may have liberated from a previous employer).
Of course, this only covers the raw recording of the podcast. There's some post-processing that's done each week to finalize the podcast, including adding a cover image, the standard lead-in (with the intro music), a tail, etc. Occasionally, there may be a modest amount of editing.