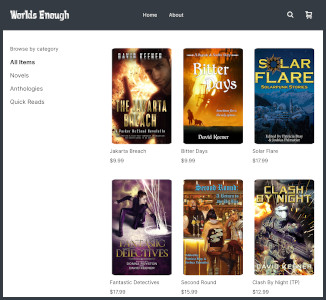 I launched my online store today.
I've wanted to set up a store for a while, for a whole bunch of reasons. First, I wanted to be able to sell signed copies of my books, as well as related extras in the future.
Second, from a bookselling perspective, Amazon had been gradually becoming less friendly to authors, particularly in the post-Bezos era. Frankly, I believe they've made it harder for readers to organically find books as part of promoting their advertising business.
So, I launched my own online store using Square. Most people are familiar with Square…their core competency is their credit card processing capabilities, which you can find on display just about everywhere. They're the #1 solution for vendors selling at events (which is how I became familiar with them). But they also provide sales solutions for retailers, restaurants, and other brick-and-mortar businesses.
Sqaure has teamed up with Wix, an automated website-building company, to provide customizable online stores, with Square providing credit card processing. Square's online store offers different levels of store-ness, but the lowest tier is free. It turns out, if you're technical and you work at it, you can put together a pretty nice store using their free tier.
The way the store works, they handle the online ordering and I handle fulfillment. Which, thanks to my anthology business where I have to send out Author Copies all the time, I'm well set up to do.
I'm linking to the store from a "Store" menu entry on both my Worlds Enough website (https://www.worldsenough.com) and my own Author Website at (https://www.davidkeener.org). The store itself is located at: https://worldsenough.square.site